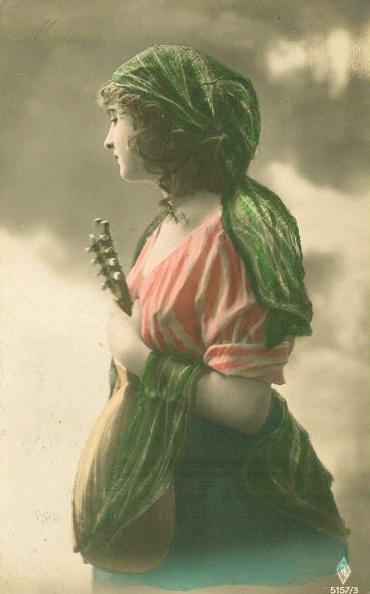 Picture copyright... scrapologie.blogs.com/scrapologie_creating_art
Tis a Romany Tale
that up in the moon
Each midnight a gypsy
is playing a tune
The melodies sweet
from his fiddle that flow
Are heard but my lovers
as silent they go
Then love let us try
while the moonlight is clear
Amid the dark forest
that fiddler to hear.
(William E.A. Axon)

My Grandmother Mary Elks is believed to come from Romany stock but unfortunatly I don't have evidence as of yet to confirm this.
It is believed my Great Grandfather Fredrick Elks was the first Romany Elk to live in a house.
My Great Grandfather Fredrick was born in Kent and during my research I found that Kent had a lot of Romany Gypsies.
It is hard to research Romany ancesters as a lot of info was not recorded and was past down from word of mouth.
UPDATE
I have now found the gypsy connection.
Going back from Frederick Elks I find Joseph Elks married Sarah Plumb.
Plumbs are well know gypsies....I as of yet have to find if Joseph's family were also gypsies.

William Plumb of Lambley married Mary Lane of Bulcote on 6 June 1789 at Burton Joyce Church. Witnesses were Joseph Plumb and George Hickling.
Children christenings were:
Samuel 10 Jan 1790
William 25 Dec 1971
Mary 21 July 1893
William then married Ann Selby on 12 Dec 1795 at Lambley Church
Children:
Jane 20 Dec 1796
Sarah 6 May 1798
Nathan 8 Nov 1799
Henry 31 Jan 1802
Susannah 15 Jan 1804
Absalom 29 Dec 1805
Harriet 24 Jan 1808
Eli 26 Nov 1809
William died 15 Jan 1815 burial 17 Jan 1815 aged 49yrs.
Ann second wife of William died 5 Dec 1846 buried 13 Dec 1846 aged 74yrs.

William was christened on 6 June 1766 son of Samuel and Elizabeth Plumb.
Ann was christened 21 may 1772 daughter of Henry & Eleanor Selby.

Jane Plumb born 1796 married Robert Plumb with consent of Parents at Lambley on 18 July 1815 witnesses Joseph Wilson (ChurchWarden) and William Plumb.
Robert was christened on 4 Oct 1795 son of John & Mary Plumb.

Children of Robert & Jane:
Hiram (son) 26 May 1816
Hannah 7 Feb 1819 burial 1 Dec 1822 aged 3yrs
William 3 Feb 1822
Sylivah (Daughter) 18 Jan 1824
There was also a Hannah christened on 5 Aug 1827 , says Robert and Ann but I think this should have been Jane, this Hannah was buried on 22 June 1828 aged 10 months
Emma 4 Oct 1829
Charles 31 Oct 1831

Census for Jane are:
1841: Lenton HO107, Piece 858, Folio 40, Pg 30
Robert 45yrs, Jane 40yrs, Sylvia 15yrs and Charles 9yrs
1851: Smalley, Derbyshire, HO107, Piece 2144, Folio 359, Pg 2
Robert 52yrs, Jane 54yrs, Charles Smith 25yrs (son in law) Selvia Smith 26yrs (Daughter)
1861: Codnor and Loscoe, Derbyshire, RG9, Piece 2431, Folio 21, Pg 15
Jane 62yrs, Nathan 59yrs (brother)
1871: Codnor & Loscoe, RG10, Piece 3476, Folio 71, Pg 29
Jane 74yrs, Nathan 71 yrs, Silester Smith 47yrs (Daughter) Charles Smith 47yrs, Hiram Smith 18yrs, Charles Smith 6yrs.
1881: Codnor & Loscoe, RG11, Piece 3320, Folio 69, Pg 9.
Jane 84yrs, Charles Smith 55yrs, Syliva 56yrs, Charles 16yrs, Hiram Smith 27yrs, Ann Smith 29yrs, Annie Smith 4yrs, Jane Smith 1yr.
Robert Plumb died 4 Aug 1858 at Shipley Common aged 62yrs Death Notice in Derby Mercury Paper. Buried Lambley on 8 Aug 1858.

Jane Plumb died March qtr 1883.
Nathan Plumb born 1799 married Elizabeth Martin 7

1823 (no month down on record but sometime between June and December) witnesses were Edward Bowbotham and Joseph Wilson
Elizabeth was buried 19 Aug 1825 at Lambley aged 35yrs
Children were:
Dedimiah 12 Oct 1823
Nathan then married Ann Cook at St Mary's Arnold on 4 Dec 1825 witnesses were Joseph Solans? ( hard to read) and Elizabeth Cook.
Children were:
Henry 13 Nov 1828 Lambley
Eveitt 4 Aug 1836 Lambley
Violetta 2 Feb 1832 St Marys Nottingham (thers's also a Violetta Plum daughter of Nathan and Ann Plum at Basford Church on 30 June 1833)

Census:
1841: Nottingham HO107, Piece 869, Folio 39, Pg 26
Nathan 42yrs, Ann 35yrs, Dedemiah 16yrs, George 14yrs, Henry 12yrs, Violet 8yrs, Everet 5yrs, Samuel 2yrs.
1851: Nottingham HO107, Piece 2132, Folio 95, Pg 33 on his own (will look for wife and children next time I'm at the archives)
1861 & 1871 with sister Jane see above post.
1881: 13 Middlemore Yad Grantham, Lincolnshire, RG11, Piece 2321, Folio 106, Pg 26,
William caunt 57yrs, Violetta Caunt 48yrs, Lucy Caunt 21yrs, George Caunt 18yrs, Ellen Caunt 13yrs, Charlotte Caunt 0, Nathan Plunil (Plumb) 83yrs, Eliza Jenkinson 30yrs, William Jenkinson 7yrs, John Jenkinson 5yrs, Henry Jeknison 3yrs, Amelia Jenkinson1yrs. (Jenkinson family down as boarders).

Nathan died Sept Qtr 1885 Grantham.
Missing census for Henry Plumb 1861 Lambley RG9 Piece 2444, Folio 55, Pg 11
Henry aged 60yrs, Sarah 68 yrs, Charles tag 28yrs Diana Tagg 27yrs, Ephrim Tagg 4yrs, S Briggett Tagg 8mths, Thomas Hatherley 69yrs, Arthur Kirk 40yrs


Absalom Plumb 1805 married Mary Boot at Lambley Church on 11 May 1830. Witnesses were Joseph

? (unable to make it out) and Joseph Wilson
Children's Christenings
John Boot Plumb 28 Dec 1830 Hucknall Torkard Church
Eliza 21 July 1833 Hucknall Torkard Church.
Mary died before1839.
Absalom married his second wife Mary Barton (nee Ctofts) on 22 May 1839 at St Marys Church in Nottingham witnesses were Henry Plumb and Deidamia Plumb.
Census:
1841: Hucknall Torkard HO107, Piece 858, Folio 25, Pg 44, Absolam Plumb 30yrs, Mary Plumb 35yrs,
1851: Hucknall Torkard HO107, Piece2127, Folio 600, Pg 46, Absalom aged 43yrs, May (Mary) 46yrs, John Plumb 20yrs, Eliza Plumb 17yrs and a Thomas Milson aged 26yrs.
1861: Hucknall Torkard, RG9, Piece 2442, Folio 20, Pg 31, Absalom aged 46yrs, Mary 58yrs, Mary Crofts 15yrs.
1871: Hucknall, Rg10, Piece 2491, folio 49, Pg 27, Absalom Plumb aged 65yrs,
Eliza Teather 37yrs (daughter), Mary Teather 16yrs, Sarah Teather 13yrs, Charles Teather 9yrs, ann Bertha 4yrs
1881: Portland St, Hucknall Torkard, Absolam 75yrs, Eliza Theather 45yrs, Sarah Teather 24yrs, Charles Teather 19yrs, Edward Teather 3yrs, William Turner 27yrs.
Have yet to find him on 1891 census.
Absalom died March Qtr 1895 aged 90yrs.
Eliza Plumb daughter of Absalom married George Teather on 12 April 1852 at Basford Church.
Eli Plumb born 1809 a Gardener of Woolpack Lane Nottingham married Elizabeth Balchin on 19 April 1841 at St Marys Church Nottingham witnesses were Henry Plumb and Deidamia Plumb.
Children christenings were Ellen Plumb 13 Nov 1842 St Stephen Church Sneinton abode was Walker St.
Iram Plumb 18 Nov 1844 at St Paul's Church Nottingham ,abode was Snow Hill.
Census:
1851: Sneinton, HO107, piece 2130, Folio 367, Pg 30, Eli aged 41, Elizabeth 28yrs Ellen 8yrs, Harim 6yrs, Ann 4yrs, Emma 1yr, Joseph Munton 21yrs.
1861: Sneinton, RG9, Piece 2452, Folio 109, Pg 19, Eli 52yrs, Elizabeth 37yrs, Bram 16yrs, Ann 14yrs, Emma 11yrs, Ann Saxton 26yrs.
1871: Nottingham RG10, Piece 3529, Folio 37, pg 3, eli 53yrs (age is wrong on this one). Elizabeth 49yrs, Alfred Mills 27yrs, Anne Mills 24yrs (Eli's daughter), Mary Anne Mills 4yrs.

Ann Plumb (daughter of Eli) married Alfred Mills at St Marys on 12 Feb 1865.
Eli died Sept Qtr 1880 Nottingham.